Baby-Friendly Policy
Main Page Content
We believe breastfeeding is important.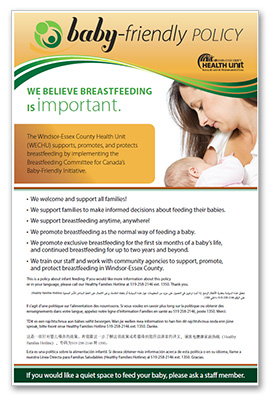 The Windsor-Essex County Health Unit (WECHU) supports, promotes, and protects breastfeeding by implementing the Breastfeeding Committee for Canada's Baby-Friendly Initiative.
We welcome and support all families!
We support families to make informed decisions about feeding their babies.
We support breastfeeding anytime, anywhere!
We promote breastfeeding as the normal way of feeding a baby.
We promote exclusive breastfeeding for the first six months of a baby's life, and continued breastfeeding for up to two years and beyond.
We train our staff and work with community agencies to support, promote, and protect breastfeeding in Windsor-Essex County.
This is a policy about infant feeding. If you would like more information about this policy
or in your language, please call our Healthy Families Hotline at 519-258-2146 ext. 1350. Thank you.
View our BFI Policy Plaque (PDF).
Related Content:
Last modified:
Thursday, February 10, 2022 - 10:29am