The Baby-Friendly Initiative (BFI)
The Baby-Friendly Initiative (BFI)
Main Page Content

The Windsor-Essex County Health Unit (WECHU) supports, promotes, and protects breastfeeding by implementing the Breastfeeding Committee for Canada's Baby-Friendly Initiative.
What is the Baby-Friendly Initiative?
The Baby-Friendly Initiative (BFI) is a global program established by the World Health Organization (WHO) and the United Nations Children's Fund (UNICEF) in 1991. The goal of BFI is to ensure families are able to make an informed decision about how to feed their baby.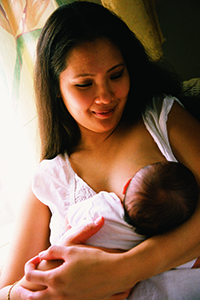 A Baby-Friendly facility provides health teaching about infant feeding and helps to support women to begin and continue breastfeeding.  While breastfeeding is encouraged, a BFI facility supports all babies and families, no matter how they feed or plan to feed their baby. Mothers who decide not to breastfeed are supported and provided with education to help them feed their baby in another safe and nurturing way.
In Canada, the Baby-Friendly designation is awarded by the Breastfeeding Committee for Canada (BCC) to a facility or organization that meets the following 10 requirements:
Have a written breastfeeding policy that is routinely communicated to staff and volunteers.
Provide training to all staff and volunteers to support the breastfeeding policy.
Inform pregnant women and their families about the importance and process of breastfeeding.
Place babies in skin-to-skin contact with their mothers right after birth for at least an hour, until after  the first feeding, or as long as the mother wishes. Mothers are taught how to look for signs that their babies are ready to feed, and help is offered as needed.
Support mothers to breastfeed and help mothers maintain their breastmilk supply if they are separated from their baby.
Support mothers to only offer infants breastmilk for the first six months, unless breastmilk substitutes are needed for medical reasons.
Encourage mothers and babies to stay together at all times in the same room after birth.
Encourage baby-led or cue-based breastfeeding, along with exclusive breastfeeding for six months and continued breastfeeding up to 2 years and beyond.
Support mothers to feed and comfort their breastfeeding babies without the use of artificial teats or pacifiers (soothers).
Ensure mothers receive continued support from their community service agencies after discharge from hospital.
In addition to these 10 steps, WECHU must also follow the WHO International Code of the Marketing of Breast-Milk Substitutes (the Code). The Code protects all infants and young children by ensuring the information families receive is accurate, fact-based, and free from commercial interest.  It ensures all babies have access to safe nutrition of the highest quality and standard.
WECHU earned our Baby-Friendly designation April 2018. We are committed to:
Educating staff and families about our Breastfeeding Policy which outlines WECHU's commitment to providing the highest quality infant feeding services. Please call the Healthy Families Hotline at 519-258-2146 ext. 1350 to receive a copy of the Policy Summary.
Offering breastfeeding information and support to families through online prenatal classes, telephone support, and in-person breastfeeding clinics.
Linking families with community resources that will help them to reach their infant feeding goals.
 Encouraging mothers to breastfeed anytime, anywhere.
Educating families and businesses about a woman's right in Ontario to breastfeed or express breastmilk in the work place.
Helping other organizations in the community support breastfeeding families.
Supporting families who are not breastfeeding to make sure they have the information they need to safely store, prepare, and feed breast-milk substitutes to their infant.
How can I get involved?
Windsor-Essex Family & Baby-Friendly Committee
The Windsor-Essex Family and Baby Friendly (WEF&BF) Committee is made up of professionals and community members that are interested in supporting the health and well-being of pregnant women and their young children.
One of the key roles of this committee is to support WECHU in achieving BFI designation, and to support other community agencies to adopt BFI practices and move toward BFI designation.  
The WEF&BF Committee has members from a variety of community partners including Windsor Regional Hospital, La Leche League, Ontario Early Years Centres, parenting support groups, midwives, doulas, and breastfeeding educators.
If you are interested in promoting and supporting breastfeeding in our community, WECHU is excited to hear from you. Please contact us at: intake@wechu.org or call the Healthy Families Hotline at 519-258-2146 ext. 1350.
Related Content:
Last modified:
Monday, June 27, 2022 - 3:10pm