Alert Date:
Tuesday, April 18, 2017 - 4:30pm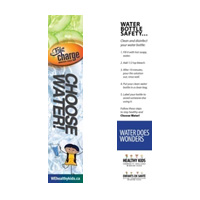 Notification Details
The Windsor-Essex County Health Unit (WECHU)  is issuing a public notice that instructions listed on the backside of a Take Charge Windsor-Essex  Choose Water bookmark, pictured below, are incorrect. Following the instructions listed under "Water Bottle Safety" may cause the creation of, and exposure to, gas containing chlorine and could possibly lead to eye irritation or minor respiratory symptoms such as coughing or throat irritation.
What Should You Do?
Check to see if you have this bookmark in your home. If found, it should be thrown out or recycled. For instructions on how to safely clean a water bottle, please see below.
Who is Affected?
To date, the WECHU has not been made aware of any reported reactions associated with following the information provided on the bookmarks. The WECHU is working with its community partners  to remove the bookmarks that have not yet been distributed to the public. We will be reviewing this matter as part of our continuous improvement efforts.
How to Safely Clean and Disinfect a Water Bottle
Filling a reusable water bottle with tap or filtered water means fewer bottles in the landfill and more money in your pocket.
Follow these simple steps to clean and disinfect your water bottle:
Clean it with hot, soapy water and rinse.
To disinfect, add 2.5 mL (1/2 tsp) of household bleach to every 1 L (4 cups) of water.
After 45 seconds, pour the solution out and rinse well.
Put your clean water bottle in a clean bag.
Label your bottle to avoid someone else using it. Follow these few simple rules to stay healthy and drink water often.