Rethink Your Drinking
Main Page Content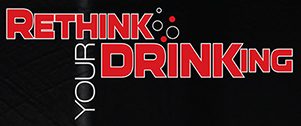 Rethink Your Drinking is a South West Ontario alcohol awareness campaign.
The campaign encourages males and females, in South West Ontario, aged 25 to 44 years that drink, to rethink the way they drink.
When it comes to drinking, everything matters
How much you drink, when you drink, and how you drink will change your actions and feelings. Over time, drinking behaviours can increase your chance of getting cancer or heart disease.
If you drink, always follow the Low-Risk alcohol Drinking Guidelines.
Related Content: