This report sheds light on significant differences found in the health of Windsor and Essex County residents, and outlines recommendations for ways to address health disparities in our community.
Addressing determinants of health and reducing health inequities are fundamental to the work of public health in Ontario. 
Effective public health programs and services consider the impact of the determinants of health on the achievement of intended health outcomes.
While striving to improve health outcomes for all population groups, the pursuit of health equity seeks to reduce the excess burden of ill health among socially and economically disadvantaged populations.
Identifying disparities in health and in health behaviours is just one of the first steps toward taking action to address inequalities.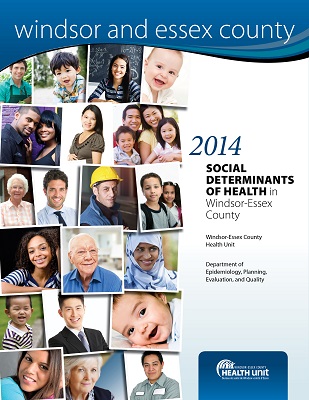 The aims of this report are to:
Educate the community, professionals, and local governments about the social determinants of health and what they are.
Provide the community, professionals, and local governments with local data on how the social determinants of health impact the health of Windsor-Essex County residents.
Provide reliable information for local governments, organizations and agencies to use for program and service planning, evaluation activities, and policy development.